Shannon Motors Providence RI Spring Car Prep Tips!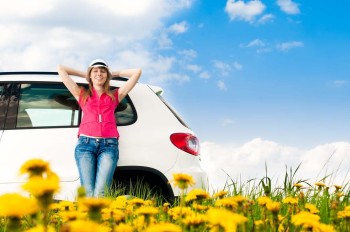 Providence, Rhode Island- Winter worries have melted away and spring has arrived! Shannon Motors Providence shares quick tips to help you transition your car from winter to spring weather.
1. Check Your Alignment
You can check your alignment by observing how it moves when the steering wheel is centered. If it veers off center, this is likely caused by winter driving conditions and pot holes. Getting this fixed early can ensure that your tires don't wear out prematurely, saving you money in the long run!

2. Change Your Tires
If you have snow tires it is now time to switch back for the upcoming warmer months. Winter tires are specifically designed with compounds for cold temperatures. They won't perform their best if you us them on dry roads. If you have all-season tires, it is now a good time to double check the tread. To check tread depth, simply place the edge a penny into the tread of each tire, near the center. If the tread doesn't cover any portion of President Abe's head, you likely need new tires.

3. Season Refresh
As temperatures rise, it is important for you to make sure that your coolant is topped off. It may also be time to double check your windshield wipers! Springtime showers can cause tough driving conditions so making sure that your wiper blades are in good condition will ensure your safety navigating the roads this season.

4. Clean!
Finally, a spring cleaning doesn't hurt! Salt, debris and grime from rough winter conditions on the road can damage your car's exterior. Take your car for a wash and vacuum, there are some great local car washes around Rhode Island who are offering deals and incentives for the spring.
Did your car take a beating this winter? Then it may be time for you to check out our huge inventory of cars, trucks, SUVs and minivans.We offer a wide variety of financing options to include "Bank Financing", "Buy Here Pay Here" and "Lease Here Pay Here." We also provide a selection of easy weekly payment options to choose from. Our passion for helping people establish credit and to re-build their existing credit is accomplished by our reporting your timely payments to the credit bureaus. Interested? Apply today or call 1-800-559-1000 for more information!